As part of IEEE VIS 2015 the SFB-TRR 161 co-organized the first workshop on eye tracking and visualization to bring together researchers from visualization, experimental psychology, and human computer interaction. With over 60 participants the workshop was very well attended and the afternoon meet-up extended the discussions.
The different field (visualization, experimental psychology, and human computer interaction), all concerned with eye tracking, have nevertheless very different approaches to research as well as to publishing their results. The workshop had an impressive line-up of speakers, including CHI-lifetime aware winner Stuart Card and with Kenneth Holmquist  [1] and Andrew Duchowski [2] two authors of important books in the field.
For the full program see the workshop website http://www.etivs.org.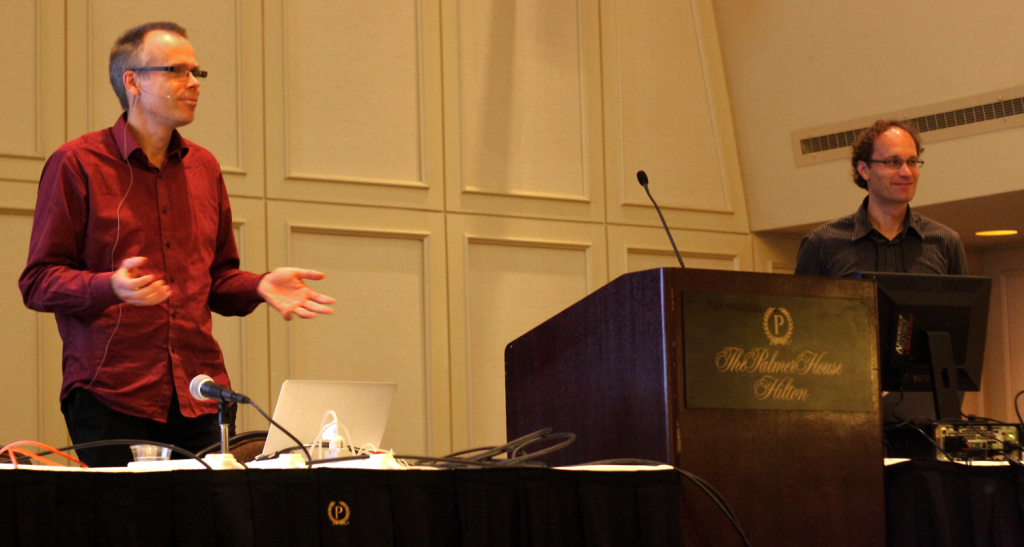 The keynote was presented by Kenneth Holmquist on "Measures and Visualizations from eye movement data". He presented a comprehensive overview the many different measures people use on eye tracking data and showed many of the visualization techniques that have evolved over the last 15 years. A central question to talk away from his talk is: when is visualization of eye gaze data helpful and when does it just provide the people who use it with a "wrong" sense of understanding. He highlighted this using head maps as example, which are particular popular in (web) usability. He had interesting examples of un-reflected uses of visualizations and the over-interpretation of head maps. This provided a great starting point for further discussions.
Together with the participants we have started to collect interesting resources at the crossroad of visualization and eye-tracking. This list of tools and resources as well as a reading list will be soon available on the website of the SFB-TRR 161 (http://www.trr161.de).
Chicago has many things to see, but the Cloud Gate in Millennium Park is a must for visualization people. The reflections are beautiful – and mechanically calculated in real-time with highest resolution.
---
References
[1] Holmqvist, Kenneth, Marcus Nyström, Richard Andersson, Richard Dewhurst, Halszka Jarodzka, and Joost Van de Weijer. Eye tracking: A comprehensive guide to methods and measures. Oxford University Press, 2011.
[2] Duchowski, Andrew. Eye tracking methodology: Theory and practice. Vol. 373. Springer Science & Business Media, 2007. http://www.springer.com/us/book/9781846286087
ETVIS 2015 – First Workshop on Eye Tracking and Visualization