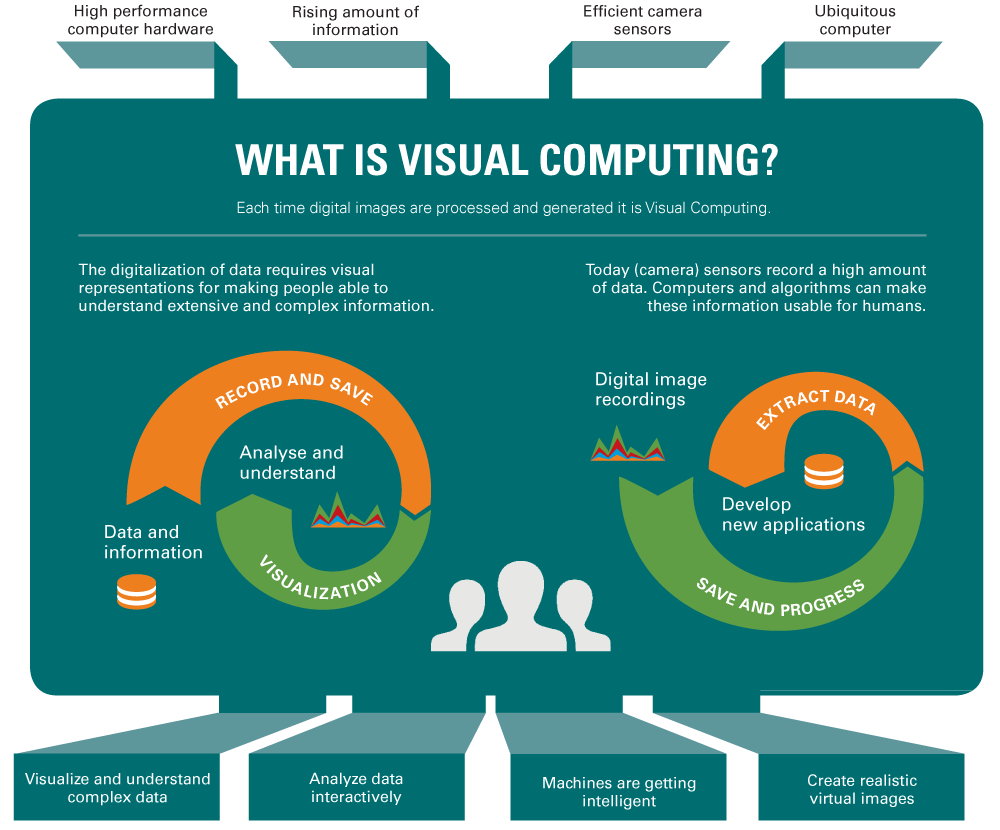 Smartphones take our holiday pictures, send a reminder of upcoming appointments, and help us find the way to a meeting point. Cars are learning to see, computer generated images entertain us in cinemas and video games, and we view new products online in 3D before purchase.
Ubiquitous computer displays and increasing information
In our daily environment, we see lots of information on displays – on computer screens and mobile devices, on virtual shop windows as well as huge display panels. Screens become ubiquitous – in our private life , in research, and industry. Due to technological progress, it becomes possible to process and generate a large amount of data.
Showing information as well as generating data
Images play an important role in today's data society, in which data is generated at amazing speed. The great challenge is to extract relevant information from vast amounts of data and to communicate it effectively. A good way to represent complex data are rendered images. For example, the results of a complex computer simulation can be analyzed much more efficiently with images or in animations. Specific questions can be answered more easily with interactive visualizations instead of evaluating collections of raw data. Furthermore, we gain additional information out of images. For instance, camera systems in modern cars warn drivers about unexpected obstacles and thereby potentially prevent accidents.
Creating, analyzing, manipulating, and transmitting information efficiently
In recent years, computer scientists have developed efficient methods to retrieve information from large data collections. In combination with such automatic data analysis, visual presentation has become a crucial element. The need for abstracting data and understanding complex information rises and the importance of interactive graphical representation will increase further with becoming ubiquitous.
These visual techniques involve research from different areas of computer science and engineering, psychology, and other areas. Visual computing researchers work in the field of computer graphics and visualization, image analysis and computer vision, human-computer interaction and graphical interactive systems. They develop algorithms and scientific methods for creating, analyzing, manipulating, and transmitting images with the purpose of gaining insight or communicating information.
What is Visual Computing?