The 4th International BDVA (Big Data Visual and Immersive Analytics) 2018 Symposium is a well-established scientific meeting that covers the area of Visual Analytics and Immersive Analytics of Big Data. The international symposium will be the first time held out of Australia at the University of Konstanz on October 17 – 19, 2018. BDVA 2018 offers researchers with the opportunity to be part of an exciting programme with internationally renowned keynote speakers, special sessions, and Workshops.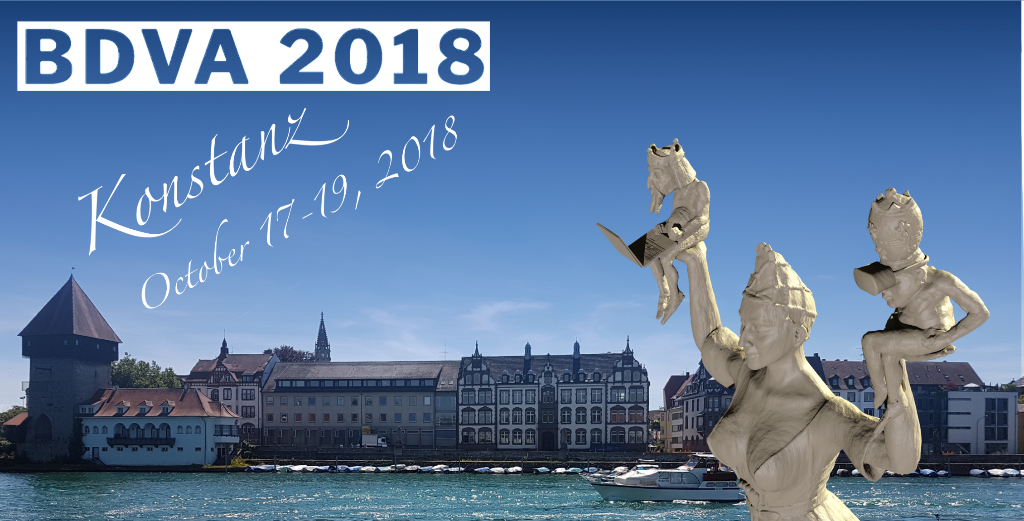 Visual Analytics plays a major role in the analysis and decision-making processes for science, industry, and government organisations. It is one of the best ways we have for making sense of large and complex data sets. Reflecting its history of encouraging research into less-traditional approaches to visual analytics, this year BDVA has broadened scope to include the emerging field of Immersive Analytics. Immersive Analytics aims to support data understanding and decision making everywhere and by everyone, working individually or collaboratively. It aims to make embodied tools that are intuitive, engaging, and make the best possible use of all sensory channels. This may be achieved through the use of immersive virtual environment technologies, natural interfaces or responsive analytics, but is not tied to the use of any particular technology. Immersive Analytics brings promising opportunities to interact with Big Data coming from geo-science, biomedical applications, collective behaviour, text mining, crime analysis, among other application domains.
The BDVA is supported by the SFB-TRR 161 and offers a doctoral workshop on Data Science with Prof. Dr. Blaž Zupan from the University of Ljubljana.
Symposium topics include but are not limited to:
Theoretical Foundations of Immersive Analytics
Immersive Storytelling
Collaborative Visual and Immersive Analytics
Personalized Visual and Immersive Analytics
Use of Mixed Reality for Analytics including Situated Analytics
Visual, Audio, Haptic, and Multisensory Data Presentation including Data Physicalization
Human-Computer Interaction including Use of Natural Interfaces for Analytics
Analytical Reasoning and Sense-making of Big or Complex Data
Scalable Visual and Immersive Analytics including HPC for Visualisation
Responsive Analytic Algorithms for Interactive Data Exploration
Big Data Management, Transformation, and Presentation
Context-Semantics-driven Visual and Immersive Analytics
Processes & Tools for Building Visual and Immersive Analytics Applications
Applications and Case Studies
Keynote Speakers:
Sheelagh Carpendale, University of Calgary – My Perspective on Immersive Analytics
Nicolas Holliman, Newcastle University – Visualizing Urban IoT Data using Cloud Supercomputing
Paul Cairns, University of York – Experiencing immersion and uncertainty in digital games and elsewhere
Workshops:
Registration:
Registration web page: http://bdva.net/2018/index.php/register/!
Symposium on Big Data Visual and Immersive Analytics in Konstanz