On 25/10/2022, we had a seven-hour workshop titled "Women* in Computing: The unspoken tips for navigating your career". The workshop aimed to create a safe space for researchers to discuss career and family struggles and exchange ideas and approaches on how to handle them. Two research grants funded the event: the SFB-TRR 161 "Quantitative Methods in Visual Computing" and ERC Amplify. It was a collaboration between LMU Munich, the University of Stuttgart, and the University of Konstanz. We had a diverse set of twenty-nine attendees from eleven universities and three companies. Our attendees mainly identified as women with three identifying as men.
Six speakers, six perspectives
We had six speakers in our workshop. We started with Mai Sherif, a senior IT manager at Procter and Gamble. She spoke about her journey as a young Engineer from the global south leading a large department in one of the top Fast-Moving Consumer Goods Enterprises. She showed statistics supporting the high financial returns of hiring women in managerial roles.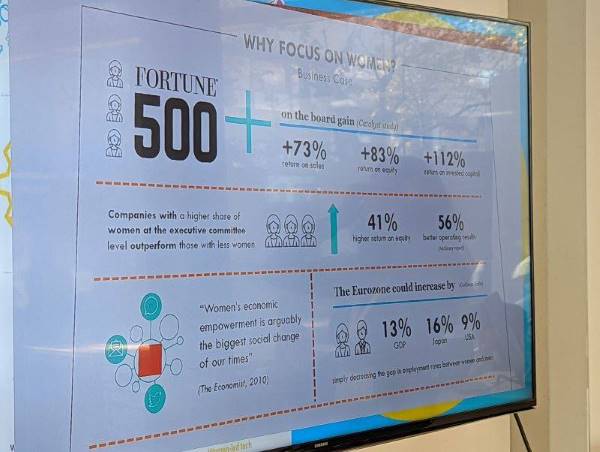 Afterwards, we had Katrin Kreidel, the CEO at Hydrop Water Systems, a startup for enlightening people about their water consumption. She spoke about her journey from doing her MSc. then collaborating with her colleagues to create a product and a company on a different topic. She also pointed to available funds for research startups.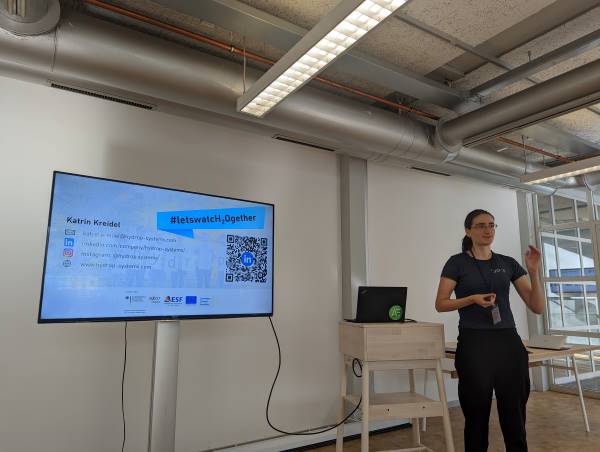 Our third speaker was Betty Mohler, Principle research scientist at Amazon. She spoke about her journey as a tenured professor and then the choice to move to the industry as a senior researcher. It was cool knowing how much she enjoyed attending conferences as a teenager with her older siblings and how it inspired her to pursue a career in research. She also spoke about her research using virtual reality and avatars to understand the differences in the self-image of men and women regarding their weight.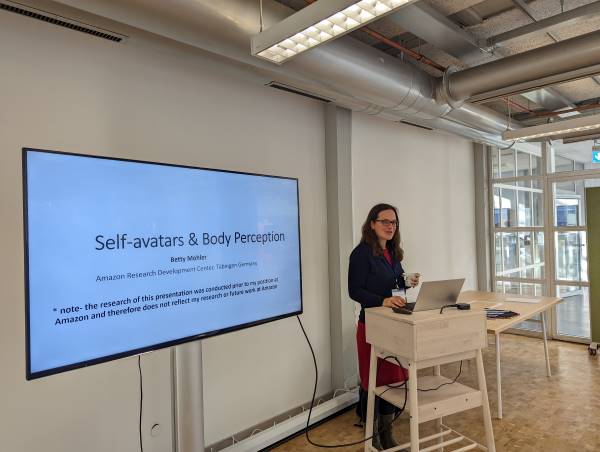 Next, we had Julie Williamson, a senior lecturer at the University of Glasgow, who taught us about how "successful" CVs are actually made and inspired us by showing the actual number of rejects between all the accepted items. She highlighted the importance of balance and having internal validation from an activity besides a career to maintain mental health. She spoke also about volunteering opportunities for researchers in the community.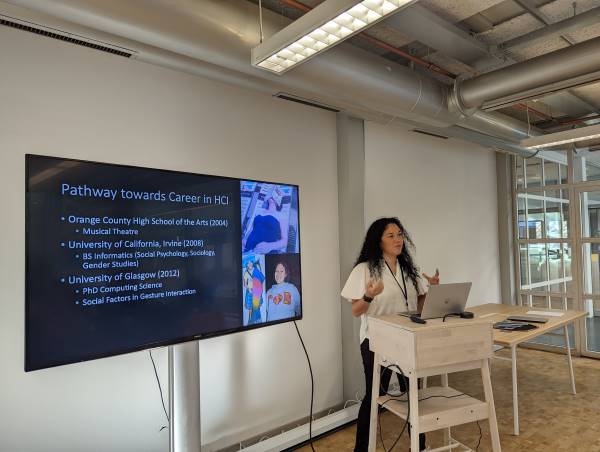 Our fifth speaker was Katrin Angerbauer, PhD candidate at the University of Stuttgart. She enlightened us about the importance of clearly and proactively asking people with disabilities about their needs instead of trying to anticipate them. For 10 minutes, she showed us how life feels in her shoes.
Our last and sixth speaker was Kathrin Lichius, PhD candidate at the University of Stuttgart. She showed us how a person should be flexible about their life and career. With a busy timeline of managerial positions in industry, 3 kids, a PhD, and several relocations across the globe, she showed us the importance of setting your priorities right and enjoying your journey.
We also had a group activity where we anonymously collected challenges facing us and then discussed them in groups. The top themes were around managing the diverse needs in a group as a representative, finding collaborators and networking, imposter syndrome, identifying your research topic and defining progress, and microaggressions in the work environment. We ended the workshop with a tour of the Arena 2036 building, a futuristic complex with several companies and research institutions collaborating on the spot. It was exciting to see from the inside. Afterwards, we had pizza and personal discussions to wrap up.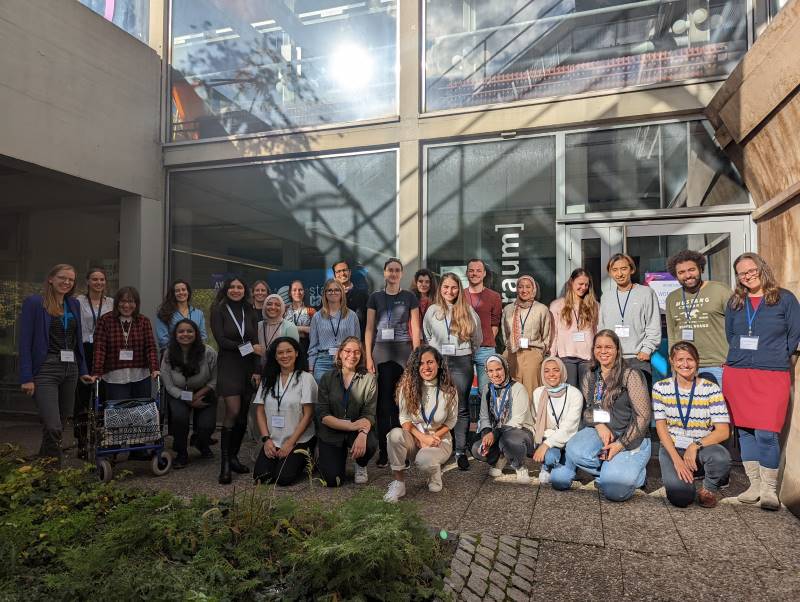 A big big thank you!
The event went by in a flash and was informative and fun for everyone involved. We were happy to connect in terms of research but also non-academic issues. Sharing and discussing struggles helped us feel more connected. The talks were inspiring and encouraging to find one's own way and to give back to the community as well. Participants stayed in contact after the event & offered to volunteer in future events. We will definitely aim to offer future similar non-technical events to empower researchers.
Women* in Computing: The Unspoken Tips for Navigating your Career