Ich habe mein BOGY an der Universität Konstanz im Bereich "Computer Vision and Image Analysis" absolviert. Meine BOGY Woche begann am 24. März um 10 Uhr. Alle BOGYs trafen sich zusammen mit ihren jeweiligen Tutoren und lernten sich kennen. Nachdem uns grob unterschiedliche Aufgaben der einzelnen Bereiche vorgestellt wurden, welche sehr interessant waren, folgten wir unserem jeweiligen Tutor an unseren Arbeitsplatz. Meine Tutorin war Anna Alperovich, sie war zuständig für mich in dieser Zeit. Ich wurde dann in den Bereich der Computer Vision and Image Analysis eingewiesen. Zuerst lernte ich jedoch das Programm "MATLAB" kennen, da ich zuvor damit nicht gearbeitet habe. An diesem Tag durfte ich mir auch noch verschiedene Vorlesungen aussuchen, welche ich dann im Laufe der Woche anhören durfte.
Nachdem ich dann mich mit MATLAB auseinander gesetzt habe, hatte ich die Aufgabe mich auf das Thema "Image Denoising" zu konzentrieren. Ich durfte zusammen mit der Hilfe von Anna und ihren Kollegen dieses Thema selbst erarbeiten. Am Ende der Woche stellte ich meine Ergebnisse bei der "Abschlussrunde" in einer kurzen Präsentation vor.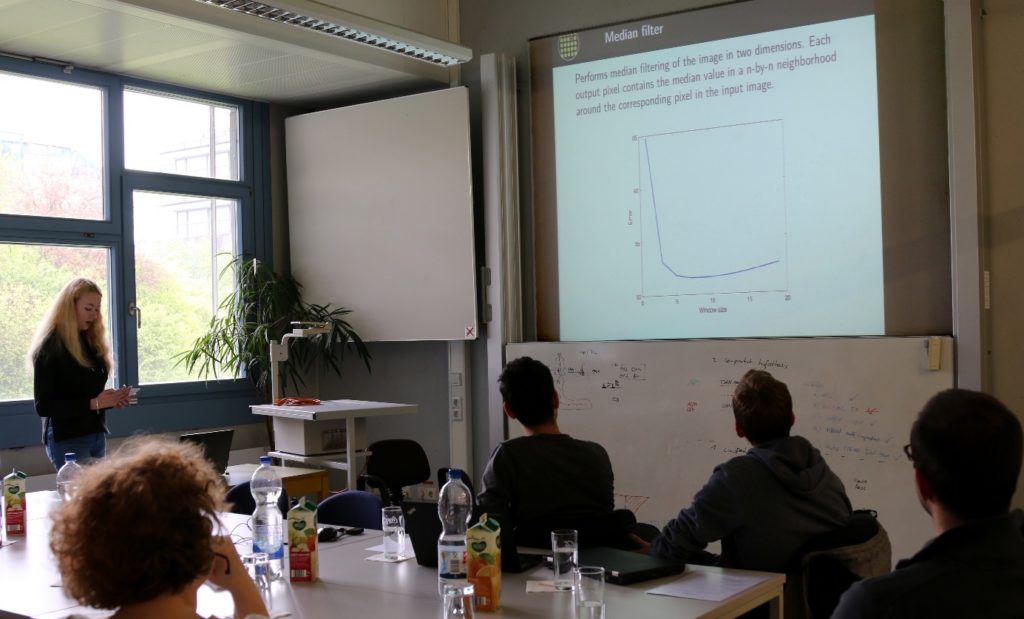 In der Woche haben wir auch noch die Powerwall und den Roboter eDavid vorgestellt bekommen. Es war unglaublich spannend und aufregend die Sachen selbst zu sehen. Es war sehr toll zu sehen, was man für verschiedene Dinge kreieren kann und wie gut diese Dinge funktionieren.
Für mich war es eine komplett neue Erfahrung und auch eine Bestärkung in meinem Berufswunsch. Ich hätte nicht erwartet, daß in so vielen Bereichen Informatik dahintersteckt und wie spannend es doch ist diese zu erarbeiten und zu verstehen. Aber auch der Einblick in den typischen Alltag eines Studenten war sehr interessant und hilfreich.
Ich bedanke mich nochmals für die schöne und super interessante Zeit und dafür, daß es möglich war so einen tollen Einblick zu bekommen.
BOGY an der Universität Konstanz